Home
>
News & Events
>
Willow Springs Rehabilitation & Healthcare Center Happily Plays Wedding Host
Willow Springs Rehabilitation & Healthcare Center Happily Plays Wedding Host
Resident Edgar Smith Marries Longtime Sweetheart Ronnie Freeman at Skilled Nursing Facility in Brick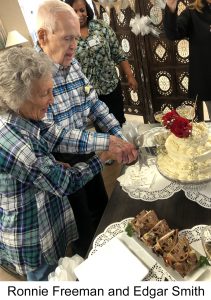 BRICK, N.J., March 11, 2020 – Love filled the air at Willow Springs Rehabilitation & Healthcare Center recently, when the skilled nursing facility in Brick played wedding host for resident Edgar Smith and his longtime sweetheart, Ronnie Freeman. The pair wore matching plaid tops and bright smiles throughout the festivities.
"It's not every day that we have the honor of hosting a wedding, and our staff just reveled in the opportunity to do so," said Kathy Kimm, director of physician and hospital relations at Willow Springs. "We couldn't be happier for the newlyweds; they are a perfect match! We wish them health and much happiness together."
Marla Morris, Freeman's niece and an ordained minister, officiated the ceremony and festivities, where the couple was surrounded by family and staff members. Sherill Mimes, Willow Springs' concierge, spearheaded the joyous event with assistance from Jennie Campbell, the facility's activities director. Chef Ted Davies created an elegant – and delicious – wedding cake and light fare for the reception.
Smith is a subacute rehabilitation patient at Willow Springs. His and Freeman's love story was years in the making. The pair met 17 years ago, when she purchased a condominium from him in Ocean Grove. The closing process was smooth and over the next several years, the two periodically ran into one another in the small beach town.
After Smith's first wife passed, he and Freeman developed a friendship. They enjoyed riding bicycles around Ocean Grove and whiling away the afternoons on his front porch. "We fell in love on that porch," said Freeman. "During our long conversations, we discovered we had similar upbringings and many shared values. Everything about us just clicked and was easy."
When asked how Smith popped the question, a smiling Freeman shared that she did the asking. The couple has been through some ups and downs recently with their health, which has only made their bond stronger. As soon as Smith recuperates and returns to their nearby home, the couple's honeymoon plans include more relaxing afternoons together on their porch.
Located at 1049 Burnt Tavern Road, Willow Springs Rehabilitation & Healthcare Center
is a Marquis Health Services member facility, providing post-hospital care, short-term rehab and long-term residential care. Its specialized programming aims to meet the specific healthcare needs of the local community. Also based in Brick, Marquis Health Services currently supports Mid-Atlantic and New England facilities totaling nearly 4,500 skilled nursing and assisted living beds, as well as more than 2,000 independent living units.
###
Media Contact:
Sandy Crisafulli / Emma Ackel
Caryl Communications
201-796-7788
[email protected] / [email protected]